New Bentley Continental GT Spied
Auto Express
do do an amazing job at taking spy photos upcoming cars.
New Bentley's are not exception.
Lets take a look.
Yes, in the distance is what looks from afar like a Bentley Continental GT.
Well it is, but it's the new one.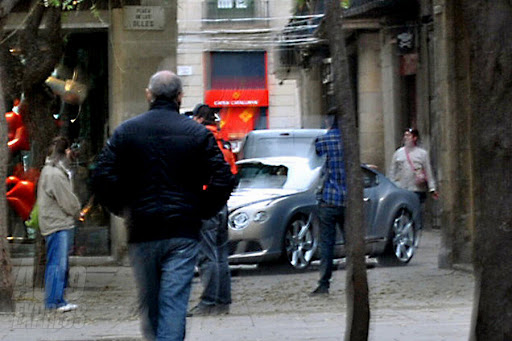 Here is the car again photos by
Auto Express
of the car up close.
Yes, it is wearing nice chequered flag camouflage.
To try and kind of confuse you in what the car looks like. Take a look at the front lights.
But some how the shape of the Bentley Continental GT does look quite familiar.
It has as expected revised from and rear bumpers.
And also has Mulsanne style front LED lights, with Super Sport rear lights.
And here is a photo of the car unclothed. Again by
Auto Express
.
You can really tell now that the front fender lines have been changes, along with the rear. Also there is a more upright grille, and even indicator lights on the rear view mirrors.
The wheels are new as well. It is expected to be announced at the Paris Motor Show in October.
Thanks
Auto Express
for the photos.
Labels: Continental GT